Welcome to Carcoon Australasia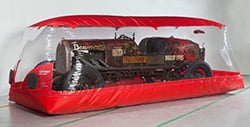 The "Sundowner" Bean car in it's protective Carcoon.  (National Museum of Australia)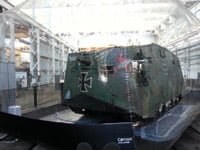 The last surviving example in the world of the first German military tank, the A7V Sturmpanzerwagen 'Mephisto', is a highly significant object that the Queensland Museum is entrusted to care for within the State Collection." Protected in its custom made Carcoon, preserved for future generations.
Carcoon is the ultimate automobile storage system to protect your precious investment. With its unique active airflow process Carcoon sets a new standard in car cover care. Two low energy fans and a six filter filtration system combined with a battery management system ensures your vehicle is preserved while in storage.
With a running cost of approximately 10 cents per day, who can't afford that kind of protection for a great car cover?
The Concept

Isolate from the constantly changing temperature and humidity of the ambient environment
Stabilize by removing excess moisture, fuel/oil vapor and other contaminates from within the mini environment.
Ventilate using the patented Active Airflow Concept
Circulate isolated circulation within using Activated Carbon Filters under pressure
Protect your car and keep it in mint condition!
Your car is an expensive investment, so you want to do everything you can to keep it in the best condition possible.  With a car capsule like the Carcoon you have simple peace of mind.
Whether you bought a new car off the lot or you have invested in a used car from a friend you want to take the time to perform regular maintenance. You also want to make sure you do what you can to avoid exposing your car to elements that will cause damage to the body or engine over time. This means storing your car in a safe location that provides adequate shelter.
It is no secret that cars parked outside will wear out faster than cars that are parked safely in a shelter of some kind. Not only will your car be exposed to poor weather, animals and dirt you are increasing the chance that a passerby can cause harm to your vehicle.
Car Capsule Like CarcoonThat's where a car capsule like a Carcoon comes in.
Covered parking can eliminate many of these concerns. Ideally, you should park your car in a secure location that puts you in control to who will have access to it.
This includes garages or storage facilities that allow your car to remain in an enclosed, locked shelter with limited access.
Make sure you keep your fluids in good working order. Allowing your brake fluid, oil or coolant to get low is dangerous, as is failing to keep these fluids in the proper condition. Fluids must be kept at a proper temperature so they do not freeze or overheat, limiting their effectiveness throughout your vehicle. Keeping your car stored properly and taking the time to drive it regularly will help keep your fluids in good working condition.