Welcome to Carcoon Australasia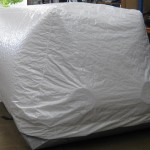 Updated: March 25, 2013 – Protective Covers Now Available!
These easy-to-use covers are ideal for Carcoon's being used in unsheltered environments. The protective cover takes the brunt of the UV, and protects from bat & bird droppings, and toxin depositions. A protective cover can vastly increase the life of your carcoon. Find out more about protective covers…
Carcoon is the ultimate automobile storage system to protect your precious investment. With its unique active airflow process Carcoon sets a new standard in car cover care. Two low energy fans and a six filter filtration system combined with a battery management system ensures your vehicle is preserved while in storage.
With a running cost of approximately 10 cents per day, who can't afford that kind of protection for a great car cover?
The Concept

Isolate from the constantly changing temperature and humidity of the ambient environment
Stabilize by removing excess moisture, fuel/oil vapor and other contaminates from within the mini environment.
Ventilate using the patented Active Airflow Concept
Circulate isolated circulation within using Activated Carbon Filters under pressure
Protect your car and keep it in mint condition!
Your car is an expensive investment, so you want to do everything you can to keep it in the best condition possible.
Our top 3 tips for keeping your car in shape include:
Parking your car in a 

garage or storage facility that will allow your car to remain in an enclosed, locked shelter with limited access.

Regular maintenance including an annual inspection by a trustworthy mechanic, and

Keep your fluids in good working order.
Regards,
Brett