Welcome to Carcoon Australasia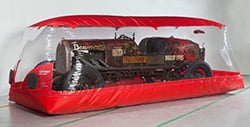 The "Sundowner" Bean car in it's protective Carcoon.  (National Museum of Australia)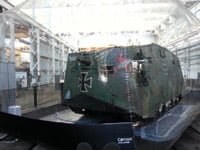 The last surviving example in the world of the first German military tank, the A7V Sturmpanzerwagen 'Mephisto', is a highly significant object that the Queensland Museum is entrusted to care for within the State Collection." Protected in its custom made Carcoon, preserved for future generations.
Carcoon is the ultimate automobile storage system to protect your precious investment. With its unique active airflow process Carcoon sets a new standard in car cover care. Two low energy fans and a six filter filtration system combined with a battery management system ensures your vehicle is preserved while in storage.
With a running cost of approximately 10 cents per day, who can't afford that kind of protection for a great car cover?
The Concept

Isolate from the constantly changing temperature and humidity of the ambient environment
Stabilize by removing excess moisture, fuel/oil vapor and other contaminates from within the mini environment.
Ventilate using the patented Active Airflow Concept
Circulate isolated circulation within using Activated Carbon Filters under pressure
Protect your car and keep it in mint condition!
Here at Carcoon, we realise that car covers are an important accessory to protect your car from damage.
However, many things have to be considered before purchasing a car cover that is most suitable for your car. For instance, the material, the colour, the size and other physical attributes are important considerations.
Read the following article if you would like more information on how to choose the right size car cover.
Regards,
Brett