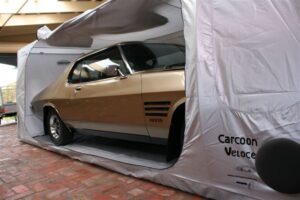 The latest evolution of the Carcoon, the Drive In Carport Carcoon.
Intended for use in semi-sheltered situations, like closed in carports (not suitable for unsheltered applications).
The outer skin is made from a special alloy coated material which provides 99.9% UV protection. It provides all the protection of the normal Carcoon while ensuring that nothing ever touches your vehicle, simply drive the vehicle into the Carcoon, zip shut the access panels and turn the power on.
The Drive-in Carcoon's internal frame supports the body of the Carcoon when the access panels are opened; this allows you to easily park or remove your vehicle. The side panels of the Carcoon open up to allow easy access to perform any activities on your vehicle.
Can also be used as an indoor unit having the added benefit of providing additional security by not allowing the vehicle to be viewed, also offers added protection from UV light.
Showing all 5 results