Drive-in Workstation – 4.0m x 4.4m
Features and Specifications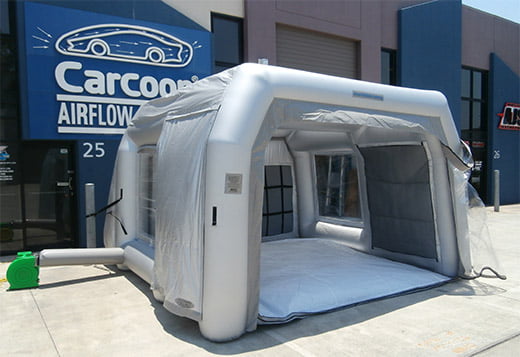 Cross flow ventilated mobile Spray Booth
Designed to help the S.M.A.R.T. (mobile) Repairer comply with Health and Safety and Environment Protection
Designed to improve working conditions and productivity.
Workspace – 3.0m x 3.4m, 2.0m high access
Workspace volume 24 cubic meters
Total footprint 4.0m x 4.4m, 2.4m High
Weight 48kg, Fan units 1 x 15Kg & 1 x 8kg.
Materials
Glass clear PVC
Light weight specially coated Nylon and Polyester
Heavy duty PVC coated polyester base material
Splash proof coil type zippers.
Air Supply
Pressure fan, 4.2 Amp 1 H.P 1010 CFM- 44x35x47 weight 17.2Kg
Max Air Supply 1/3 H.P 2860CFM 3 speed 50Hz 230 Volt 1130 watts – size 45x47x47cm weight 15.4Kg
Input Filters : surface area 2.79 sqm
Type : G4 synthetic media
Exhaust filter trap : surface area 3.0 sqm
Type : Synthetic Media Paint Arrest
Activated Carbon return to atmosphere
Type : Carbotec RT20 Foam.
Cost complete $9,980.00, inc GST
Download PDF files: