As with the vehicle Carcoon, the Bike Bubble is available in both indoor and outdoor models. The indoor model is constructed of lightweight but highly durable plastic, which is inflated to form a protective 'bubble' around your precious machine.
Max Flow Drying Vent
Bike Bubbles feature this handy vent, opening the vent changes the airflow within the capsule.
So if you have just washed your bike simply open the vent over night, this will ensure the bike is quickly and totally dried.


Power & Charge Unit
The Carcoon Power and Charge System is supplied with every Bike Bubble. This unit will maintain the vehicle's battery while in storage, and also provide back up power for the Carcoon if the mains (240 volt) power fails for any reason.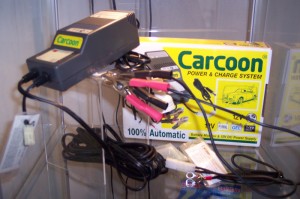 Featuring an advanced "intelligent" battery management facility, this system will assess the size and condition of your battery and set a unique program to steadily restore the battery to peak condition, all the while supporting your vehicle's electronic devices.
The system can be left connected indefinitely and will cause no harm to the battery. Quite the opposite in fact – it will improve the battery's life.
Postage & Handling
For fast and secure delivery throughout Australia
dispatch,
tracking and
delivery!