The Bike Bubble is the ultimate storage solution for your cherished machine, be it a classic or a super bike. Its unique active airflow process and other advanced features set a new standard in motorcycle care.
The material of the outdoor Bike Bubble is double alloy coated. The alloy coating provides unrivalled outdoor protection, blocking 99.9% of damaging Ultra-Violet rays.
The Double skin unit have an insulated basemat, and a double skin top cover, Air is passed though the cavity between the two skins to assist with insulation.
Max Flow Drying Vent
Outdoor Carcoon's filtration system includes spacer filters to allow airflow under the protective weather flap.
The flap has a small zip port to allow power lead access.

Power & Charge Unit
The Carcoon Power and Charge System is supplied with every Bike Bubble. This unit will maintain the vehicle's battery while in storage, and also provide back up power for the Carcoon if the mains (240 volt) power fails for any reason.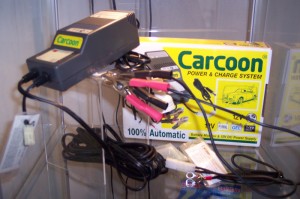 Featuring an advanced "intelligent" battery management facility, this system will assess the size and condition of your battery and set a unique program to steadily restore the battery to peak condition, all the while supporting your vehicle's electronic devices.
The system can be left connected indefinitely and will cause no harm to the battery. Quite the opposite in fact – it will improve the battery's life.
Postage & Handling
For fast and secure delivery throughout Australia